Renewing the promise
---
This column appeared in the Feb. 2013 issue of the Anglican Journal.
---
Many Canadians yearn for constructive progress in the relationship with indigenous peoples. Ongoing miscommunication and misunderstanding have blunted this hope, however.
Recent federal and provincial legislative proposals that run counter to the needs of aboriginal peoples are the latest in a long series of efforts by Western institutions, including churches, to "solve the indigenous problem." These efforts include military action, assimilation, benign neglect, education, welfare money, no-money, religion— the list goes on.
The Truth and Reconciliation Commission's Interim Report notes that reconciliation will require changes in the relationship between aboriginal people and the government of Canada. Taking a social welfare approach to dealing with aboriginal people fails to recognize the unique legal status of aboriginal peoples. Without that recognition, we run the risk of continuing the assimilationist policies and the social harms that were integral to the residential schools.
The churches were a big part of the treaty making process that established the moral, legal and—dare we say it—spiritual norms for the future of Canada. Even if they were not always directly present or direct signatories, the churches provided the spiritual and moral context that gave First Peoples a recognizable frame to make an agreement between peoples, between nations. The promise of the churches to walk with the People of the Land made the treaty process coherent and believable.
We must renew the initial promise of the treaties. Believing that we made these promises under the authority and judgment of God, we made a great moral and legal commitment to welcome the national cultures and identities of each other. We did this believing that this would bring blessings to our children and grandchildren. It is time for the church to rise up and reclaim this vision, so that all of Canada may live into the promise of a vibrant and positive future.
Ma rk MacDonald is national indigenous bishop of the Anglican Church of Canada.
Back to Top
About the Author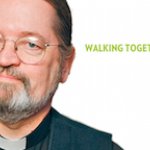 Mark MacDonald is national indigenous bishop of the Anglican Church of Canada.