PWRDF launches appeal for famine relief in South Sudan
Sarah Nyawar and her two-year-old child Nyamule Thuokhok, who is suffering from anemia and severe malnutrition, at the malnutrition ward of the clinic run by the International Medical Corps in the U.N. Protection of Civilians site in Juba, South Sudan. Photo:
© UNICEF/UN053460/Gonzalez Farran
---
The Primate's World Relief and Development Fund (PWRDF) is committing a total of $50,000 for famine and drought relief in South Sudan and Kenya – $25,000 for each country – it announced Friday, February 24.
The funds will be made available through ACT Alliance, a coalition of church-based aid agencies.
The PWRDF also released, through its website and in the form of an insert for parishes to add into their news bulletins, an appeal for donations for famine relief in South Sudan.
The appeal notes there are "alarming and growing signs of hunger" in South Sudan. The United Nations and South Sudanese government declared a state of famine in the north-central part of the African country on February 20.
"More than 40% of the population – 4.9 million people – are unsure where their next meal will come from," PWRDF said. "These already-shocking numbers may increase to 5.5 million if nothing is done to improve access to food."
Meanwhile, in Kenya, President Uhuru Kenyatta declared an ongoing drought a national disaster. According to PWRDF, nearly half of Kenya's 47 counties are in a state of emergency, with rural areas struggling with livestock death and forecast reduction in the harvest.
The Rev. Joseph El Haj, manager of SUDRA, the relief and development arm of the Episcopal Church of South Sudan and Sudan, said that over half a million people in South Sudan are now "on the verge of famine," according to a story posted by the Anglican Communion News Service.
The causes of the famine, according to PWRDF, include conflict, abnormal rainfall and economic collapse. South Sudan gained its independence from Sudan in 2011 a few years after the end of a civil war that lasted more than 20 years. Another civil war has been raging within South Sudan since 2013.
PWRDF began working to help South Sudanese fleeing violence in 2016, partnering with SUDRA. PWRDF also made a grant to the ACT Alliance for supplies to refugee camps in Uganda.
Archbishop of Canterbury Justin Welby has urged Anglicans to join him in praying for the South Sudanese.
"We stand prayerfully alongside the South Sudanese people and their leaders – particularly those in the Church who are providing emotional, physical and spiritual support," said Welby in a post on his Facebook page. "We pray for those on the ground who are delivering humanitarian assistance, that there will be an opening up of humanitarian corridors for the aid that is so desperately needed."
Donations to PWRDF can be made online, by phone (contact Jennifer Brown at 416-924-9192 ext. 355; or 1-866-308-7973) or by mail. Mailed cheques should be payable to "PWRDF, Emergency Response: South Sudan," and sent to:
The Primate's World Relief and Development Fund

80 Hayden Street
Toronto, Ontario M4Y 3G2
Back to Top
About the Author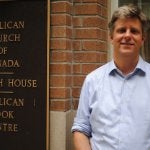 Tali Folkins has worked as a staff reporter for the Law Times and the New Brunswick Telegraph-Journal. His writing has appeared in The Globe and Mail and The United Church Observer.