Interfaith youth defy violence in Jerusalem
Young Christian, Jewish and Muslim youth from Kids4Peace break bread together for peace in Israel and Palestine.

---
As violence continues to rage in the Holy Land and senior world diplomats fail in their efforts to broker a ceasefire between Hamas and Israel, a committed group of young people is making a stand for peace.
On July 9, on the 11th night of Ramadan, some brave young Jerusalemites attended an unusual iftar—the traditional sundown meal that each evening breaks the daytime fast of devout Muslims during the holy month.
The courageous youngsters ventured forth from their bomb shelters and their Christian, Jewish and Muslim homes to share a meal in interfaith community in defiance of the surge of violence in Israel and Gaza. "Yes, many of us were terrified. Some community members and even staff sent messages of love and support but were too afraid to join," blogged merk4p the following day. "We lent each other our ears, our shoulders and our hearts. We feel that now more than ever we have to take a stance against violence, and this interfaith iftar was just the beginning."
The young Palestinian and Israeli diners are members of Kids4Peace, a global interfaith movement for young people and their families founded in Jerusalem in 2001. Its mission is to build hopeful interfaith communities that embody a culture of peace and empower people for change and conflict resolution. K4P Jerusalem serves more than 400 youth and their families in Jerusalem and the West Bank.
In the last few moments before sunset, when the supper would begin, members from all three religions stood and offered a prayer over the food. "All who attended felt like family and broke the fast together," merk4p the blogger wrote.
Udi, the chair of the organization's steering committee and a teacher, compared the current violence to a kindergarten. "He asked everyone to imagine what would happen if one of the kids came to him and said, 'So-and-so ruined my drawing, and his reply would be, 'Well then, go on and ruin everyone else's drawing, too,' "the blogger recalled. "This," he pointed out, "is the extremism in our societies. They are trying to destroy everything, but here we are, coming together despite it all, making a stance against violence."
Comments from those who attended included this one from Eden, a ninth-grade Muslim girl: "I came to prove to others that it is possible to be around people from the other side." Added Christian ninth-grader Carla, "I came to show that other than all the fighting between Arabs and Jews, there is still a way here to show peace and love." Aviya, a Jewish girl in Grade 7, said: "The war is making us all divide up and be on separate sides. It just makes me want to come even more to settle things down."
The brave gesture of solidarity in conflict resonated in other parts of the world. From a farm in Canada, Shawn, a Christian, wrote: "Friends, we prayed for you all, and for peace in your land, under the light of the full moon last night...Keep strong, for peace."
Back to Top
About the Author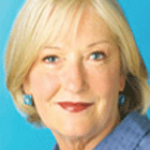 Diana Swift is an award-winning writer and editor with 30 years' experience in newspaper and magazine editing and production. In January 2011, she joined the Anglican Journal as a contributing editor.