Haitian-Canadian moved by residential school stories
"I am walking for social justice. I am a Christian," says Conceptie Jerie, who volunteered at the Truth and Reconciliation Commmission's Quebec National Event. Photo: Marites N. Sison
---
Montreal––
Conceptie Jeree learned about the history of Indian residential schools in Canada only last February.
But she was so moved by the accounts of former students whom she had heard speak at a gathering that she decided to volunteer at the Truth and Reconciliation Commission (TRC) of Canada's Quebec national event, held here April 24 to 27. Jeree was among those who greeted participants at the gathering, held at The Queen Elizabeth Hotel.
"When I heard survivors speak, I was very sad. Some of them are now 60 years old and older, but they're still suffering from what they have experienced," said Jeree in an interview. "Some of them were crying and I was deeply, deeply touched."
One student spoke about how she never told her children that she loved them because nobody had ever said "I love you" to her when she was a child.
"I'm a mother and I thought, 'Oh my God, I have to say I love you more to my children,' " said Jeree.
An immigrant from Haiti, Jeree said it is important for all Canadians, including new Canadians, to learn about the country's 150-year policy of forced assimilation involving First Nations, Inuit and Métis children. "We have to live in fraternity and unity," she said. "…I encourage everybody to know the truth and to live in the truth."
When she first arrived in Montreal, Jeree said she had seen some First Nations people and was reminded of the indigenous people in her native country. She has promised herself that she will learn more about Canada's history, especially as it relates to relations between aboriginal and non-aboriginal people. "I learned that there is some historical conflict…I'm interested to know more about it."
For now, she has been telling her children—ages 14, 20, 21 and 26—about what the gathering is all about and why she has chosen to be a part of it. "I am walking for social justice, and I am a Christian."
Back to Top
About the Author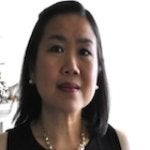 Marites N. Sison is editor of the Anglican Journal.